Darn-that-dream arrangiamento originale con spartito per chitarra

....... un bellissimo brano
Darn-that-dream è uno standard jazz by Jimmy Van Heusen and Eddie DeLange, incisa nel1939.La canzone è stata introdotta per la prima volta da Benny Goodman e la sua orchestra nel musical di Broadway Swingin' the Dream, un adattamento della commedia di William Shakespeare Sogno di una notte di mezza estate.Jimmy Van Heusen utilizza il modulo AABA standard.
All'interno di tale vincolo, tuttavia, coglie l'opportunità di realizzare una melodia complessa con un brusco cambiamento di chiave nel bridge, che passa dal SOL maggiore a MIb maggiore.DeLange conclude ogni strofa A con il verso "oh, darn that dream" ("oh, maledetto quel sogno"), opportunamente chiudendo quelle strofe con il titolo del brano.
Una elaborazione
Spartito originale New Real Book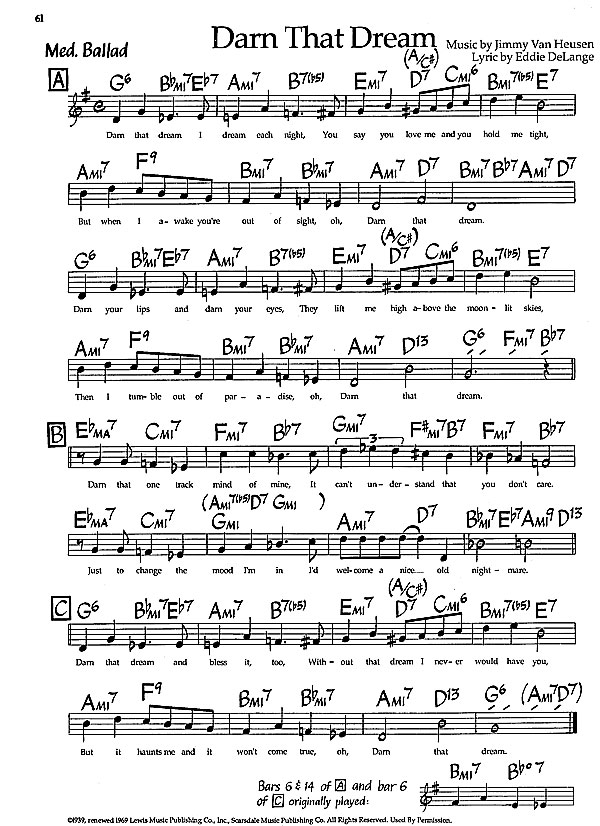 Una elaborazione armonica del brano abbastanza istruttiva
e bella da suonare!

Ascolta audio mp3 dal CD!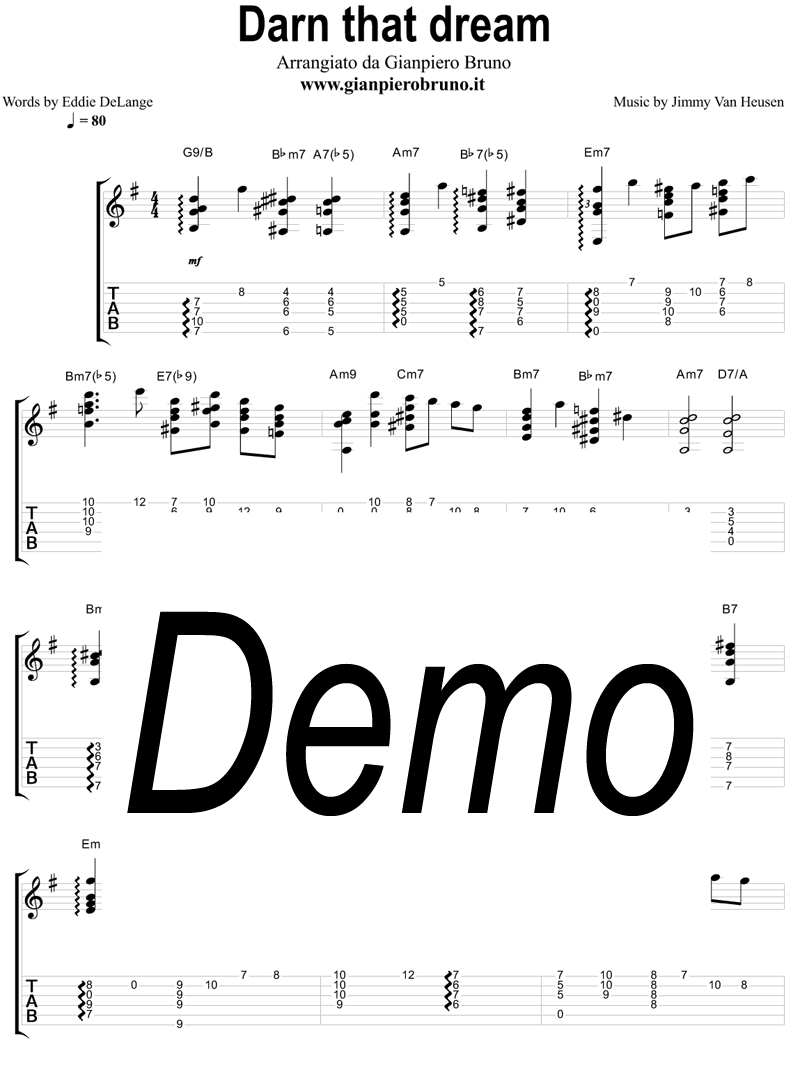 Special song and arrangement
Where Do I Begin Love Story *
Darn that dream *
As time goes by
Il Postino *
Libertango
Besame mucho *
Tears In Heaven
Altre colonne sonore
Il Postino tema per chitarra classica
Where Do I Begin Love Story Spartito
Sapore di te
Darn that dream
As time goes by
Ultimo-tango-a-Parigi
Libertango Astor Piazzolla
VUOI IMPARARE ad

Arrangiare qualsiasi brano


per sola chitarra?

Creare

i tuoi arrangiamenti personali


per chitarra sola?

Scarica adesso

20 pagine GRATIS del libro!